Responsive Website DesignToday's technology market is filled with devices of all sizes. Recent reports indicate that more than 70% of users will access your site from a tablet or mobile device. Having a website that is flexible across all potential platforms is essential to your online success. We can help you plan and design a site that will will be future-proof in today's ever-changing market.
Responsive websites automatically fit every desktop computer, laptop, tablet and mobile device out there. A responsive website will adapt and change it's layout based on the device that is being used. This provides an optimal experience for the end-user by allowing them to access your site from anywhere regardless of their screen size.
Google and other industry giants consider responsive sites the preferred way to make your site 'mobile-friendly'. US mobile website traffic is now estimated at more than 70%, meaning more people are viewing your website on a mobile device than a desktop computer or laptop. To keep up with the trend in devices, you must redesign your site to be mobile friendly, or lose ground.

An ecommerce web design for nationally-known State College, Pennsylvania based outdoor retailer. Appalachian Outdoors offers items from top outdoor apparel brands like The North Face, Patagonia, Columbia Sportswear and Life is good. They also offer a well curated selection of outdoor gear and equipment, and operate a ski shop.
From the Client" Online sales are brisk this season and we're showing a nice increase over the same time last year. I think this is due to all the work everyone has done to bring more shoppers to the site and to show them a better experience once they get there. I'm pretty psyched about the future since the web will probably prove to be an essential part of our success over the coming years. "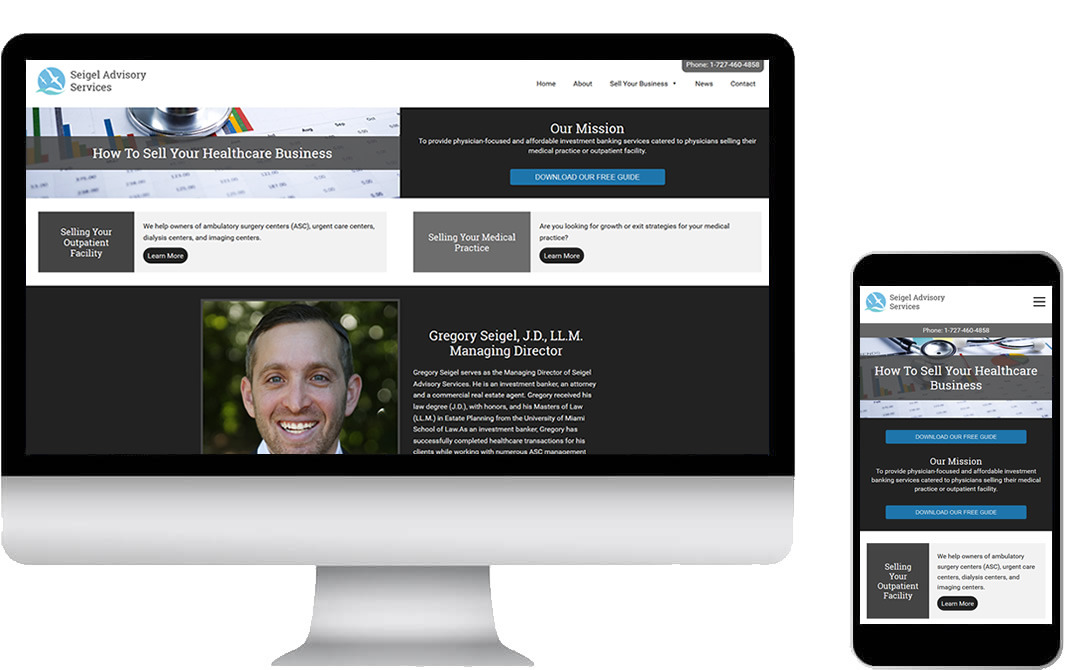 A responsive website design for the firm providing physician-focused and affordable investment banking services catered to physicians selling their medical practice or outpatient facility.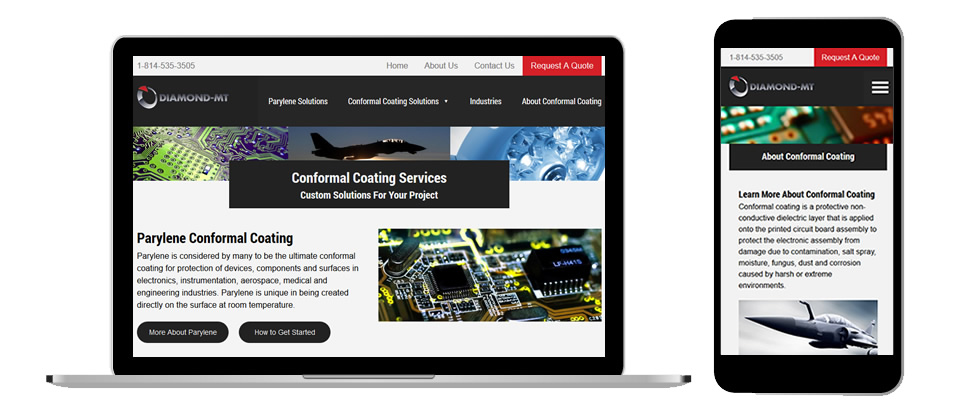 A responsive website design for the firm specializing in contract applications of Conformal Coatings for Department of Defense and Commercial Electronic Systems. Coating applications include Parylene, Arcylic Resin, Epoxy, Polyurethane and Silicone.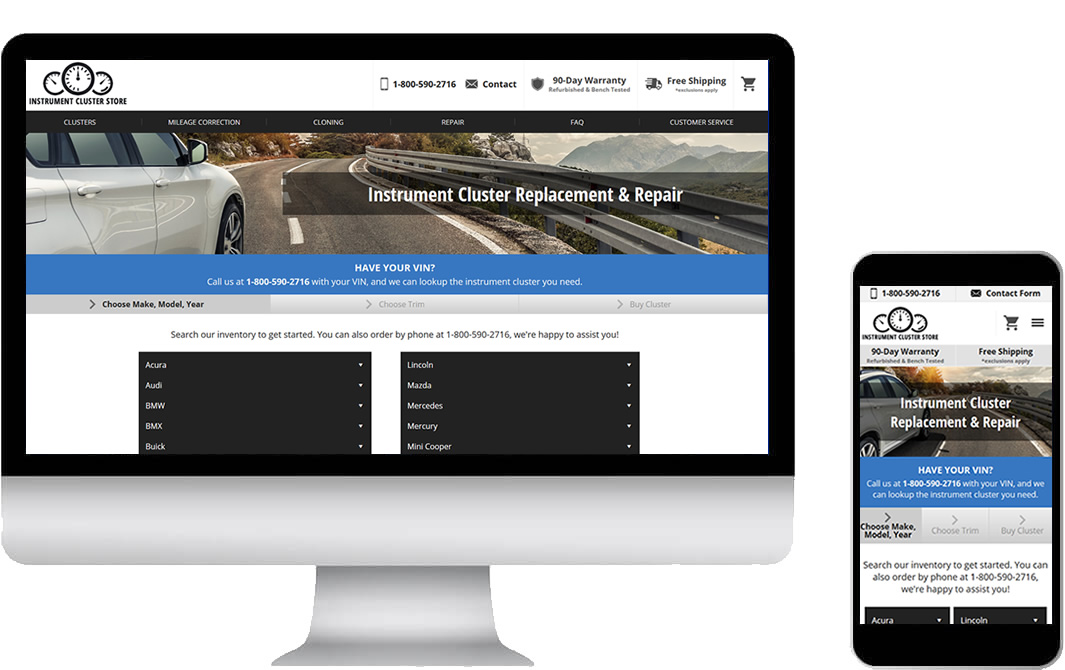 A responsive ecommerce design for the instrument cluster replacement experts. This site utilizes the state-of-the-art Ecommerce Platform and customized to make the workflow ideal for instrument cluster customers. Responsive and mobile friendly: adapts to fit all devices.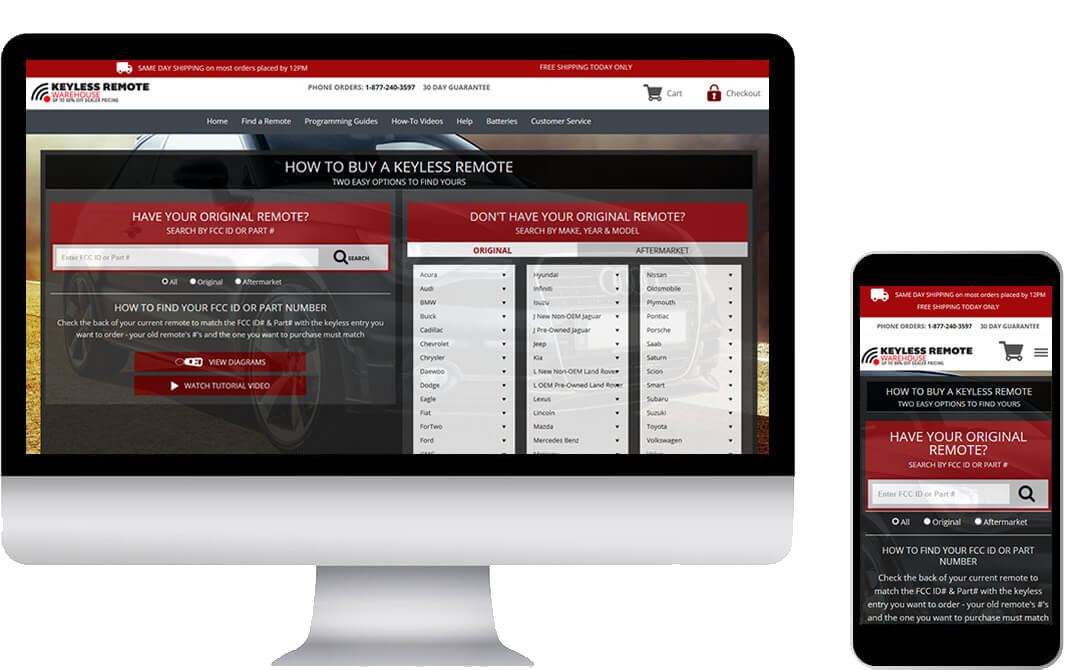 Custom Ecommerce web design for one of the top keyless entry remote/kefob retailers in the country. Utilizes our state-of-the-art Ecommerce Platform and customized to make the workflow ideal for keyless remote customers.

A responsive Ecommerce website offering Penn State Hats, Sweatshirts, T-Shirts, Gifts & Accessories.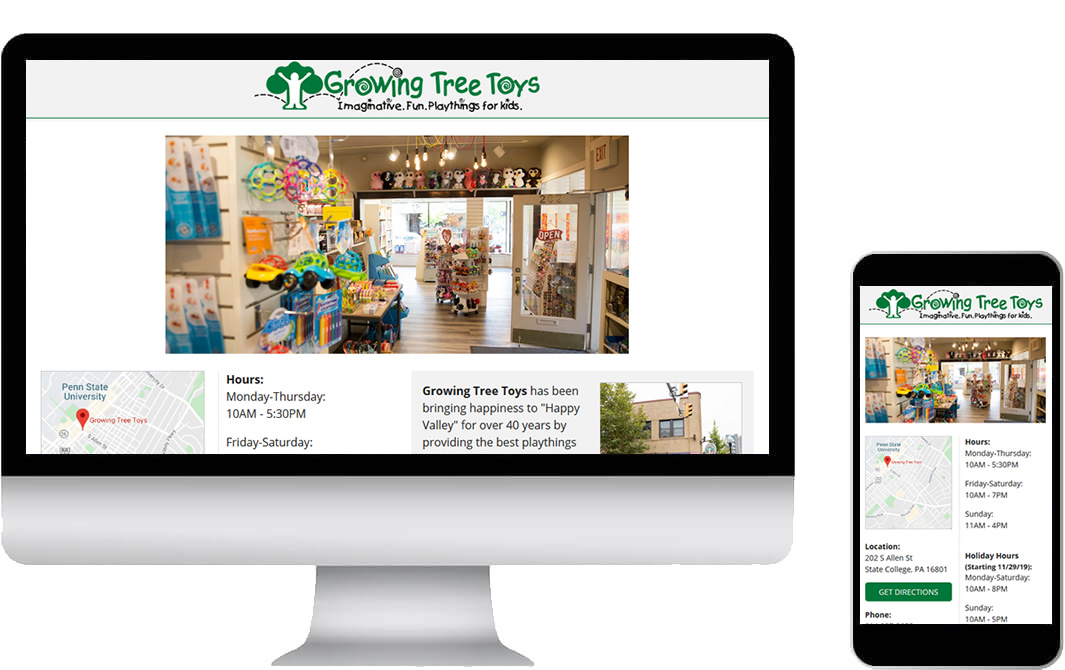 A responsive landing page for the Growing Tree Toys retail store. For over 40 years, Growing Tree Toys has provided the best playthings for children while creating awareness to the essential value of play.

An ecommerce site offering official Masters Tournament Merchandise. A clean, bright interface along with a fast page speed allows for a problem-free shopping experience.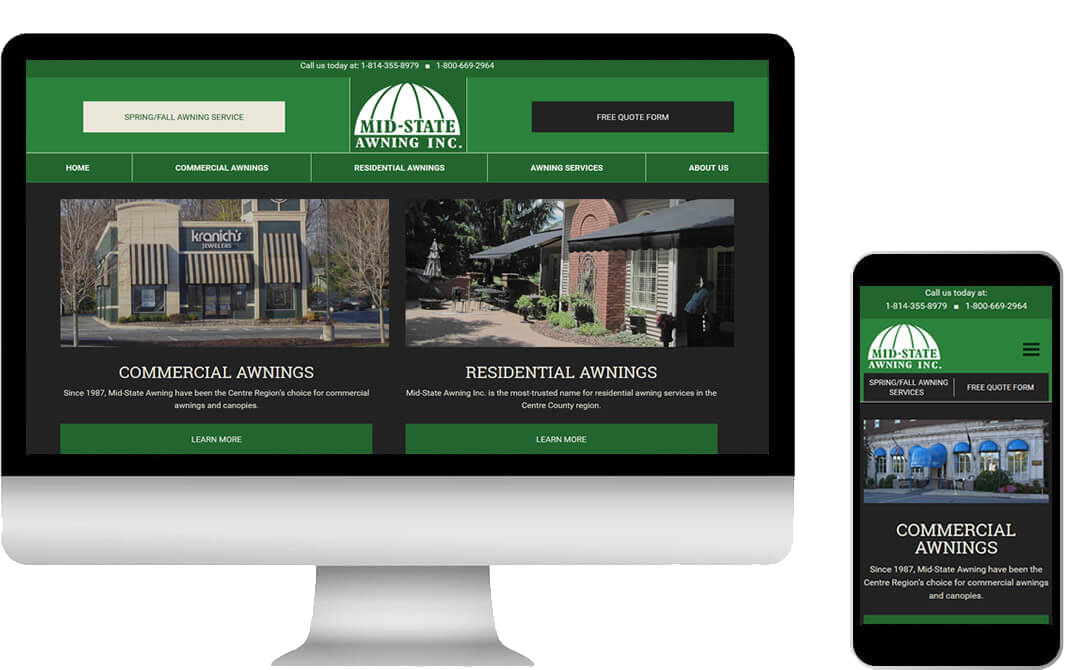 A responsive website design for the commercial & residential awning manufacturer.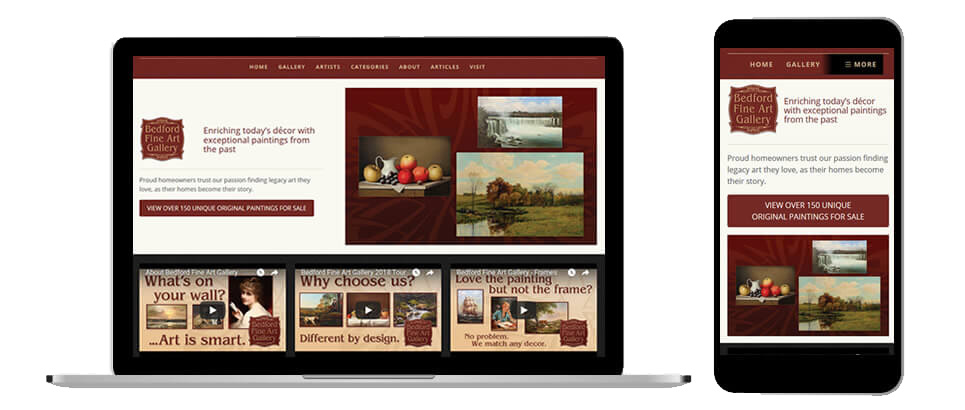 A fully responsive informational site offering original fine art including, landscape, marine, still life, genre, historical/political, sporting art & animal paintings.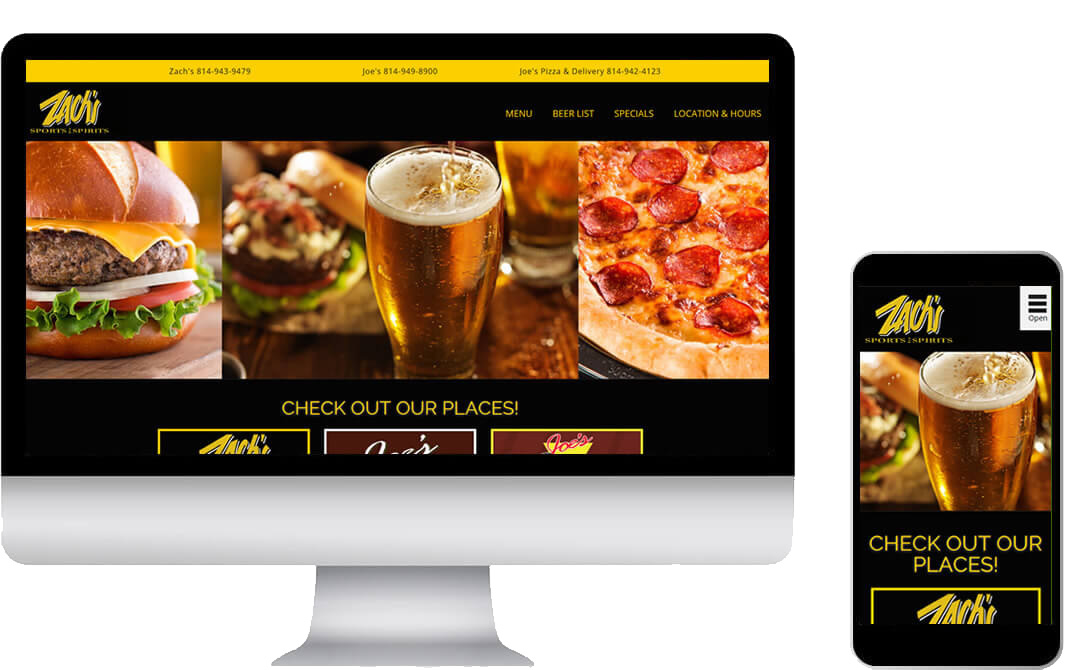 This mobile friendly PA website design promotes Zach's Sports & Spirits, Joe's 58th Street Grill and Joe's Pizza & 6-Pack in Altoona Pennsylvania. Zach's website features 2 bars, a patio and a full delivery/take-out service, food and drink menus and more.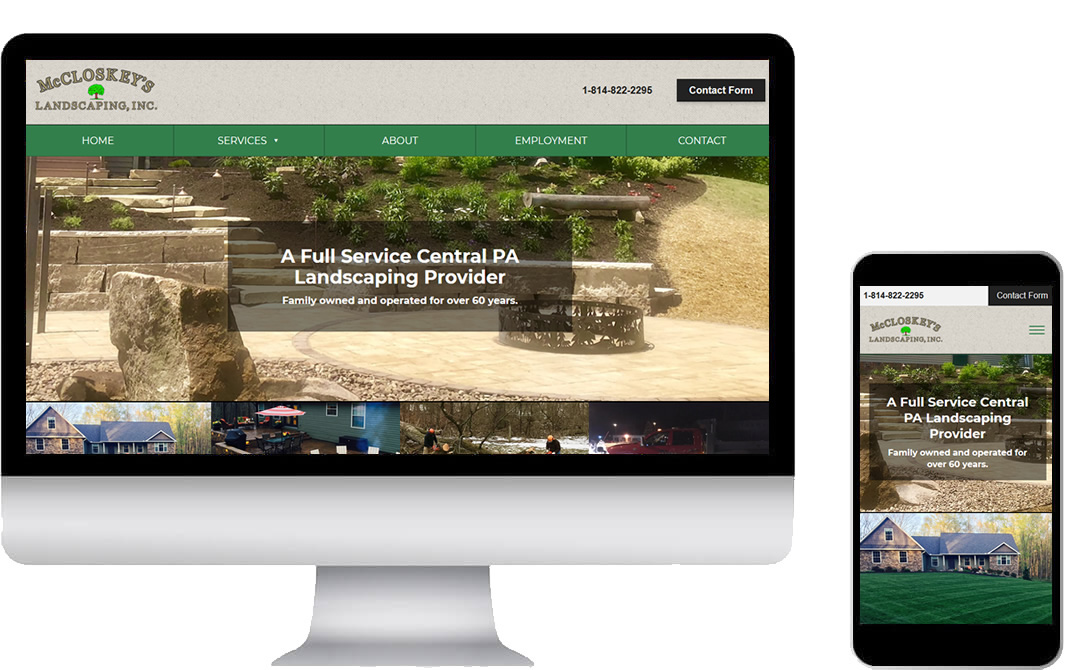 A responsive website designed for the Central Pennsylvania based landscping provider. McCloskey's Landscaping offers a full line of services including custom design & build, property maintenance, tree care and snow management.
Our Design ProcessOur design staff is dedicated to providing modern, standards-based website solutions for today's web-enabled devices. We begin by getting to know your business goals and creating a project plan. Our design process ensures that you get the website that will best serve your intended audience.
Keys to SuccessTo ensure the best possible end-product, your project should be thought-out and well-planned. We accomplish this by listening & consulting with you up front.
Listening & Planning We want to hear about your goals and how you envision reaching them using your website or other web technologies.
Consulting Our consultants can advise on the various options to reach your goals and make your vision a reality. We have many experts on-staff in addition to strategic partners. Whether the project is a simple or complex website, we have the resources to answer all of your questions and create a solid plan.
Production & Design Process Our expert design staff will work on your project creatively and efficiently. Utilizing a drafting process ensures you get the design you want.
Website Hosting Solutions When your site is ready to launch, will can also provide hosting solutions to fit your particular needs.
Visit Our Satisfied Clients
Turning Point: NanoDX is a Covid-19 / Coronavirus Test that has results in 2 minutes - made by BioDirection
Web Design Fort Myers - Gulf Coast Web Works offers web design and marketing services in Fort Myers FL.
Ecommerce Platform is an enterprise-level ecommerce solution that supports running multiple storefront websites and marketplace channels all from a single account.
Sports Collectibles offers sports memorabilia and authentic athlete autographed items for the memorabilia collector.
Appalachian Outdoors offers Patagonia apparel and North Face apparel, and over 150 other top outdoor clothing brands.
Seigel Advisory Services assists owners in how to sell a healthcare business including outpatient facilities including ASCs, Ambulatory Surgery Centers, Urgent Care Centers, Home Health Agencies and more.
Nittany Outlet is one of the top online retailers of Penn State clothes offering officially licensed Penn State apparel and gear.
Diamond-MT - offers parylene coating services and printed circuit board / PCB conformal coating services. Visit the Conformal Coating Education Center to learn all about Parylene Coating and other Conformal Coating Services.
Bedford Fine Art Gallery has an ever-changing gallery collection of over 150 unique original 19th Century Paintings for sale in the historic Bedford PA gallery.
Signings Hub is a useful online resource for finding out about upcoming autograph signing events including the location, date, how to buy tickets and which star athletes will be attending.
Manor Furniture offers Ford City and Kittanning PA Furniture and Appliances for sale at discount prices.
MMO Golf provides an essential buying service for Masters merchandise to Masters fans nationwide, providing access to much-desired official masters hats and apparel via mail order.